Gloucestershire Vintage & Country Extravaganza
Last weekend the club took part in the Gloucestershire Vintage & Country Extravaganza at South Cerney Airfield , The show was held over 3 days and we had a number of our members trials bikes on display over the full 3 days as a club display which was part of the shows Motorcycle display section . We arrived on the Thursday evening to put up our large 4 bay tent as a base with Alan Wear and Molly camping in the V.W. camper van and Fred and Sandy staying in the Caravan to keep an eye on the bikes over the weekend . We had a good variety of bikes in our display including a sidecar ,,four stroke single and twin bikes and two strokes all bikes regularly ridden by our members .a number of our committee and members also attended each day to help look after the stand and also enjoy the many other types of vintage vehicles on display In total there were approximately 250 motorcycles in the total of around 1780 vehicles on display .
Friday was a fairly quiet day but Saturday and Sunday were very busy and attended by record numbers of visitors .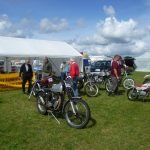 On Saturday and Sunday the motorcycles had a ride around in the main show ring to allow the ring commentator to say a bit about the different makes and type of bike to the public gathered around the main arena .
The weekend was really enjoyed by all involved and as we had quite a bit of interest in the club by the general public all involved feel that we would like to go back next year hopefully with a larger variety of bikes. Have a look at our other photos taken on the day!