Rick's updates
Day 1: September 1st All is going well after day one only 14 days to go??
Day 3: Postbridge to Bridgewater, it rained for a while but then hammered down. Soaking wet but home tomorrow for a pit stop.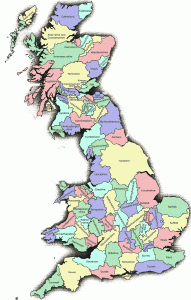 Day 4: Bridgewater to Cam (Home) Nice day tailwind and mild Total miles todate 267 only 750 to go!!
Day 5: Kidderminster 1/3 of the distance done. We had a steady day with rain, sunshine and a tail wind. Tomorrow is an 80 miler so early start and no beer!
Day6: 76 Miles, bit of a cross headwind but we went well. Built up area's tomorrow Warrington, Wigan, Preston and Lancaster – lovely
Day 7: Northern metropolis done and gone, 473 miles covered. big day tomorrow A6 over the Shap (1350 feet above sea level) and into Scotland.
Day 8: Big day, 80 miles A6 over Shap, cross head wind. Legs are complaining, but we're in Scoootland. One week to go, I can smell the North sea
Into Scotland now Cromarty to Altnaharra, 57 miles, bkustery showers and sunshinebut a cold NW headwind made it hard going. Visited the Falls of Shin. Altnaharra is stunning, a quiet little villiage in middle of no where. The crask Inn was closed today so didn't get a pint there. but the hotel next to the B&B is open so refreshments will be consumed!
Altnahara to Thurso, 59 miles, 4100ft of climbs, 11 mph average speed. The last full day. Stunning scenery but terrible weather. Hypothermic can best describe the cold, wet headwind, it was very hard going and not what we expected. But it's job done and 30 miles tomorrow up to Dunnet Head then on to John O Groats, can't wait !!
Tough final day in the wind, up to Dunnet head. We had to walk the last 200m or get blown off the bikes! There was a big surprise as we found Tina, Tonia and Marcus waiting for us at John O Groats. We had a few beers and malt whiskeys last night and realley slept well. It was a bit odd this morning (Saturday) not getting on my bike. Thankfully Easyjet have more comfortable seats. So we should be home by midday.
Well done Rick and Brionny from all at GVCMCC this was a truly great achievement
LAND'S END TO JOHN O'GROATS CYCLE RIDE
On the 1st to 15th September 2017 club member Rick Lees and his daughter Brionny will be cycling from Land's End to John O'Groats to raise funds for the British Heart Foundation.
Just to make things a bit more interesting they will also go via Lizard Point and Dunnet Head, the most southerly and northerly points of Britain. The route totals around 1000 miles, averaging 70 miles each day. They will be totally self-sufficient carrying everything needed with no support crew.
20 years ago Rick and 3 friends did a similar trip but from John O'Groats to Land's End. Rick said about this year's trip:'One of my personal reasons for doing this ride is to remember one of the three friends who cycled the End to End in 1997. 2 years ago Rich Edwards suddenly died from an undiagnosed heart condition, he was just 49. It's ironic that Rich was a keen sportsman and the fittest of us four; no matter the weather he would never miss a training ride and was always first up a hill or wanting to ride 10 more miles.
In memory of Rich I would like to raise as much money as possible for the British Heart Foundation and would be extremely grateful for any amount of support large or small.' The trip is totally self-financed and so every single penny of support will go to the BHF. Donations can be made through Rick and Brionny's Just Giving web page:
Donating through Just Giving is endorsed by the BHF, it is simple, fast and totally secure. Your details are safe with Just Giving – they'll never sell them on or send unwanted emails. Once you donate, they'll send your money directly to the charity. So it's the most efficient way to donate – saving time and cutting costs for the charity.
If you are a UK tax payer a gift aid declaration can increase the value of your donation by 25%, the BHF can reclaim the basic rate of tax on your donation at no cost to you.
Thank you in advance for your generosity.